Enjoy the underwater world for longer with increased comfort
Introducing the Threo Diving Mask, an indispensable tool for amateurs and professionals alike! Our swimming mask allows you to achieve a stable fit for a more enjoyable and stress-free experience. Made from high-quality materials and designed to last, our diving mask will be the perfect addition to your gear.
Easy breathing
The dry-top snorkel system features a plastic ball inside the tube that prevents water from getting into the mask. This allows you to breathe easily while snorkeling, and dive freely without worrying about water entering the tube from the top.
Secure fit
The silicone lining also provides a leak-free seal around the face. This allows you to fully enjoy snorkeling or diving without any interference.
Ultimate comfort
Soft food-grade silicone fits gently to the face, preventing any irritation. The high-quality elastic fiber straps ensure that your hair doesn't tangle or knot while using the Threo mask.
Enhanced visibility
With its 180-degree panoramic view, this mask provides a wider unobstructed perspective. Anti-fog coating ensures that your mask stays clear during your underwater explorations. You won't have to worry about constantly clearing your mask or missing out on the beauty of the underwater world.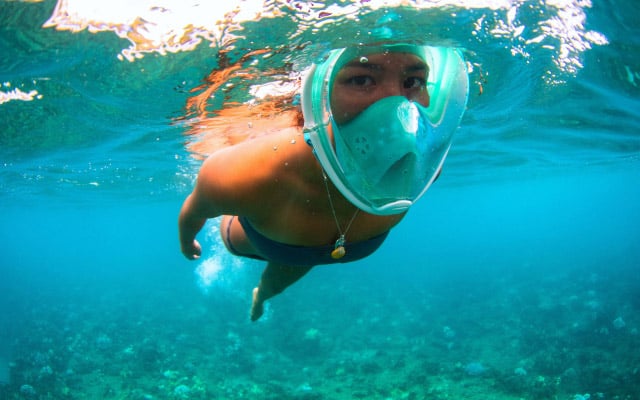 Quick water drainage
The Threo swimming mask features a convenient drain valve that allows for hassle-free water removal. Simply lift your head to let any water drain out of the mask without having to remove it.
Action camera compatibility
Our diving mask features a built-in mount that allows you to easily install your GoPro or another camera. This allows for hands-free capturing of your underwater moments.
More reasons to love our scuba diving mask
Lightweight
Compact
PremiumMaterials
Safe To Use
Size guide
HOW TO MEASURE:
To choose the right mask size based on your face length, first measure the distance from eyebrows to the bottom of your chin as shown in the picture
SIZE
AGE
LENGTH
cm
inch
XS
children
8.5 - 10
3.3 - 3.9
S/M
teenager/adult
10 - 12
3.9 - 4.7
L/XL
adult
>12
>4.7
* It's important to choose a mask that fits securely and comfortably over your nose and mouth, without gaps or slipping. If your face length measurement falls between two sizes, consider sizing up for a more comfortable fit.