PROTECT YOUR EYES AND SEE BETTER WHILE CYCLING WITH THREO PHOTOCHROMIC CYCLING GLASSES!
THREO Photochromic Cycling Glasses perfectly
protect your vision from the sunshine
. The lenses
automatically
shift the level of darkness and brightness
based on various degrees of ultraviolet radiation. Plus, our glasses offer a perfect
adaptation to all light and weather conditions
. Thanks to this technique, you will never need to switch glasses while performing different outdoor activities. What is more, the widespread lenses offer a
larger field of vision
and protect your eyes from wind, dust, and mosquitoes.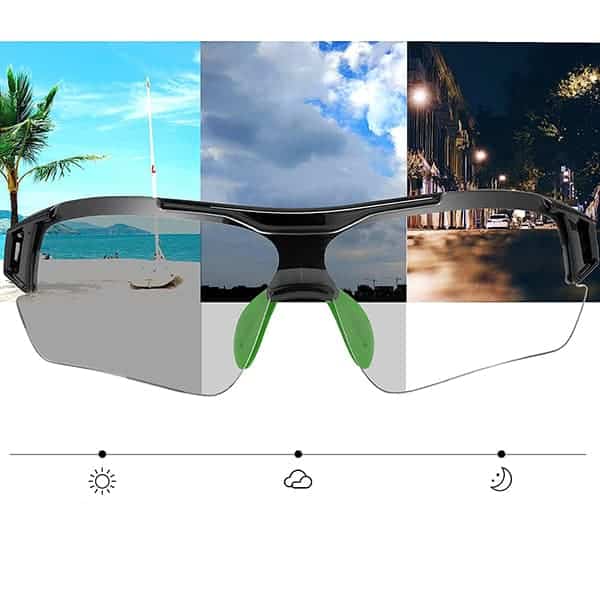 With the special coating design,
the lens is anti-fog, hydrophobic, dirt-,
and
oil-repellent
. The lens of the glasses is made of PC (polycarbonate). This material
blocks 100% of UVA, UVB, and UVC rays
, as well as harmful blue light up to 400 nm. The
soft silicone nose pads
will ideally fit any nose and ensure the best wearing comfort. Moreover, the frameless construction does not block the view and gives more
clear peripheral vision
.
THREO Cycling Glasses have a
flexible fit
for various facial contours thanks to their high-strength
adjustable rubber temples
. With an
additional glass frame for myopia,
you can attach your glasses if needed. Due to these features, THREO unisex cycling glasses are suitable for wearing for a long time. They are ideal for all outdoor activities, such as cycling, driving, running, etc.
✔️ 100% UV PROTECTION
— Our glasses have 100% UVA, UVB, and UVC protection. A polarized lens can effectively filter harmful light in the environment and block the reflected glare.
✔️ CLEAR VISION IN ALL WEATHER CONDITIONS
— Transparent lenses shift the level of darkness and brightness to ensure your clarity of vision in any weather conditions.
✔️ PROVIDE A WIDER FIELD OF VIEW
— THREO widespread lenses offer a larger field of vision which also protects your eyes from wind, dust, and mosquitoes.
✔️ COMFORTABLE TO WEAR
— The glasses are extremely comfortable due to their flexible quality. Cozy temples and nose bridges are softer for all-day-long wearing.
✔️ SUIT ALL HEAD SIZES
— Due to the flexibility of the temples, THREO Photochromic Glasses fit all head shapes and sizes without pressuring and irritating the skin.
✔️ IDEAL FOR VARIOUS ACTIVITIES
— Our glasses are suitable for all outdoor activities such as cycling, driving, running, etc.
PRODUCT SIZE: