Catch a Fish Every Time: 10 Must-Have Items They Don't Want You to Know!
Fishing has long been a beloved hobby for countless individuals, providing the perfect blend of relaxation, excitement, and the great outdoors. There's just something about casting a line and waiting for that elusive tug that ignites a sense of adventure in anglers of all ages. However, a successful fishing relies heavily on having the right gear to ensure you're prepared for whatever the waters may bring. We'll go into detail about the 10 things you must have on your fishing trip, as well as the kit required to catch the big one. From rods and reels to bait and accessories – everything you need to make your next fishing activities memorable. So grab your tackle box, and let's dive in!
Check the list of fishing gear you need before you go fishing
1. Fishing Rod & Reel
The foundation of any successful fishing trip is a high-quality fishing rod and reel combo. A versatile spinning rod like the Fishing Telescopic Spinning Rod Reel Set  is an excellent option, as it can be easily adjusted to suit various fishing situations. Whether you are targeting panfish like bluegill, catfish, bass, or trout, this combo is a reliable choice for both beginners and experienced anglers.
2. Fishing Line
The type of fishing line you choose can have a significant influence on outcomes on the water. Monofilament, braided, and fluorocarbon lines are the three most popular types of line, each with its own unique benefits. Monofilament is an affordable option that is easy to handle, while braided line offers excellent strength and sensitivity. To make sure your line is always ready to go, we recommend the Fishing Line Winder Reel Spooler.
3. Hooks and Anti-Tangle System
Selecting the right hook size and style is essential for successfully landing fish. Circle hooks, J-hooks, and bait-holder hooks are popular choices, each with its own unique benefits. When using live bait, such as worms, minnows, crayfish, frogs, or insects, a circle hook is a great option as it reduces the chances of gut-hooking the fish. For artificial lures, a J-hook or bait-holder hook may be more suitable. To keep your hooks from tangling, check out Anti-Tangle System for Method Feeder Cage.
4. Bait and Lures
The Fishing Fly Nymph Lure Fish Bait is an exceptional lure that mimics the appearance and movement of a real nymph, attracting a variety of fish. Expertly crafted with lifelike details and vibrant colors, this bait is perfect for fly fishing enthusiasts who want to increase their likelihood of succeeding on the water. It can be easily cast and retrieved, making it a useful addition to any angler's tackle box.
5. Fishing Wobbler Minnow Lure Fish Bait
Add this versatile lure to your collection and watch your catch rate soar. The Fishing Wobbler Minnow Lure Fish Bait is designed to imitate the swimming action of a real one. This artificial minnow features a lifelike look, complete with 3D eyes and a detailed paint job that makes it irresistible to fish. Its unique wobbling motion, combined with built-in rattles, entices fish to strike, making it an effective option for targeting a wide range of species.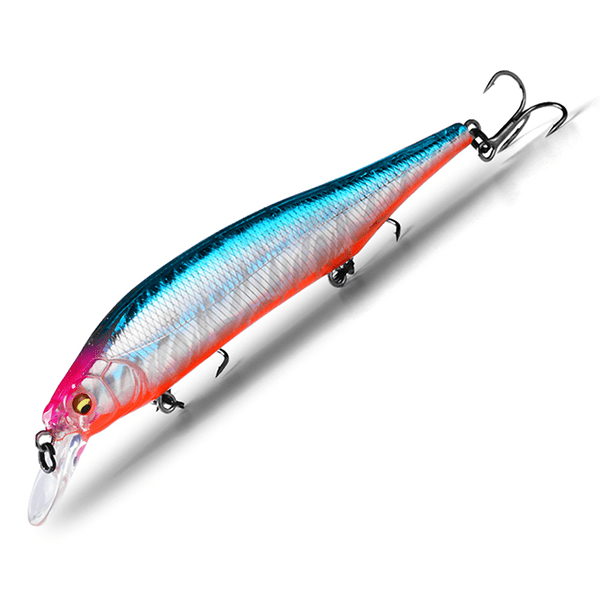 6. Silicone Fishing Lure Shrimp Worm Bait Set
The set offers a collection of different realistic baits that are ideal for luring fish. Made from soft, high-quality silicone, they mimic the look and feel of live shrimp and worms, increasing their efficiency in attracting bites. The Silicone Fishing Bait Set includes various sizes and colors, allowing you to tailor your lure selection to specific fishing conditions.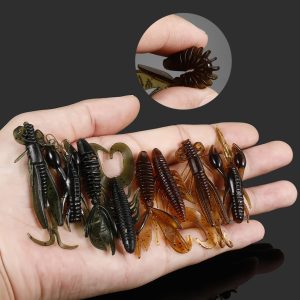 7. LED Light Fishing Rod Bells Bite Alarm
Never miss a bite again with the LED Light Fishing Rod Bells Bite Alarm. This innovative accessory easily attaches to your fishing rod, alerting you with both an audible and visual signal when a fish takes your bait. The bright LED light ensures you'll be able to detect bites even in low-light conditions, while the sensitive bells provide a clear audio cue. Easy to use and compatible with most fishing rods, this bite alarm is a game-changer for day and night fishing adventures.
8. LED Light Fish Bite Alarm for Night Fishing
Maximize your chances of success during night fishing trips with the LED Light Fish Bite Alarm. This useful device effortlessly attaches to your fishing pole and emits a bright LED light when a fish bites, ensuring you won't miss an opportunity to reel in your catch. Its compact design and easy-to-use clip make it a convenient addition to your nighttime fishing gear, and its durable construction guarantees it can withstand the elements. Don't let the darkness hinder your fishing experience – stay alert with this innovative bite alarm.
9. Fishing Extractor Hook Remover
Safely and efficiently remove hooks from your catch with the Fishing Extractor Hook Remover. This essential tool features a long, narrow design that allows for easy access to hooks lodged deep within a fish's mouth, minimizing the risk of injury to both you and the fish. Its ergonomic handle provides a comfortable grip, and its sturdy construction will stand up to years of use. Make catch-and-release fishing a breeze with this indispensable hook remover.
10. Fishing Rod Rack Holder
The way in which gear is organized is also important. A tackle box is a must-have for storing all of your hooks, lures, sinkers, floats, and other small accessories. For larger items like your fishing rods, the Fishing Rod Rack Holder Stand for Storage is a fantastic solution.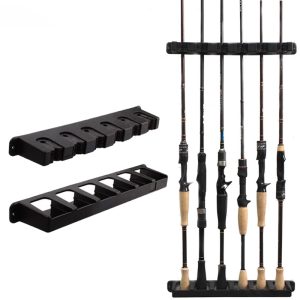 To summarize, effective fishing begins with the right equipment. By investing in a quality fishing rod and reel combo, selecting the right line, hooks, bait, and lures, and arming yourself with the proper tools and accessories, you'll be well on your way to reeling in that big catch! So gear up, head out to your favorite fishing spot, and enjoy the thrill of angling. Happy fishing!